Kasada Authentication Platform is available as a ClearPass extension
Aruba, a Hewlett Packard Enterprise company and leading provider of next-generation networking solutions for enterprises announced Kasada as a technology partner. Integrating with Aruba's ClearPass technology, Kasada can be used as a multi-factor solution for network authentication.
"Combining the Kasada photograph-centric, cloud-based MFA platform with simplified integration via Aruba's ClearPass Extensions enables enterprise MFA to provide additional automated digital security solutions based on custom factors such as time or suspicious behaviors."
Sam Crowther, Founder and CTO of Kasada
Read the full article:
https://news.arubanetworks.com/press-release/arubanetworks/hpe-aruba-introduces-developer-ready-mobile-first-platform-unlock-potent/
Kasada + ClearPass = Secure network authentication
Kasada founder Sam Crowther demonstrates the power of ClearPass and the Authentication Platform in a post on the Aruba Airheads blog. It shows how the Authentication Platform integrates with ClearPass and highlights the software-powered innovation possible with an open development platform.
Although we already offer a unique enterprise app, the launch of ClearPass Extensions enables our customers to turn two separate solutions – our Kasada Authenticator Platform and ClearPass – into a single seamless, agile and adaptable process.
Read the full blog post here: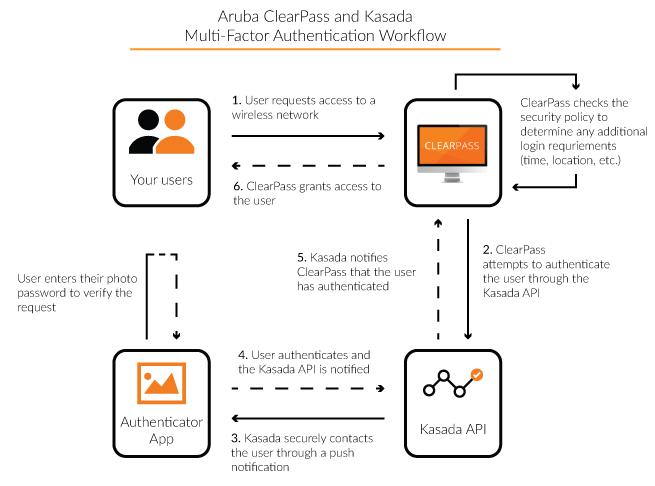 Mobilising the Australian security industry
Leading industry publication ARN explained Aruba's channel program and Kasada's role as a part of their Australian first-to-market strategy.
The company's co-founder and CTO, Sam Crowther, said Aruba has helped the company gain access to sections of the market, such as enterprise network authentication, that it would not otherwise have been able to penetrate.
Read the ARN story: