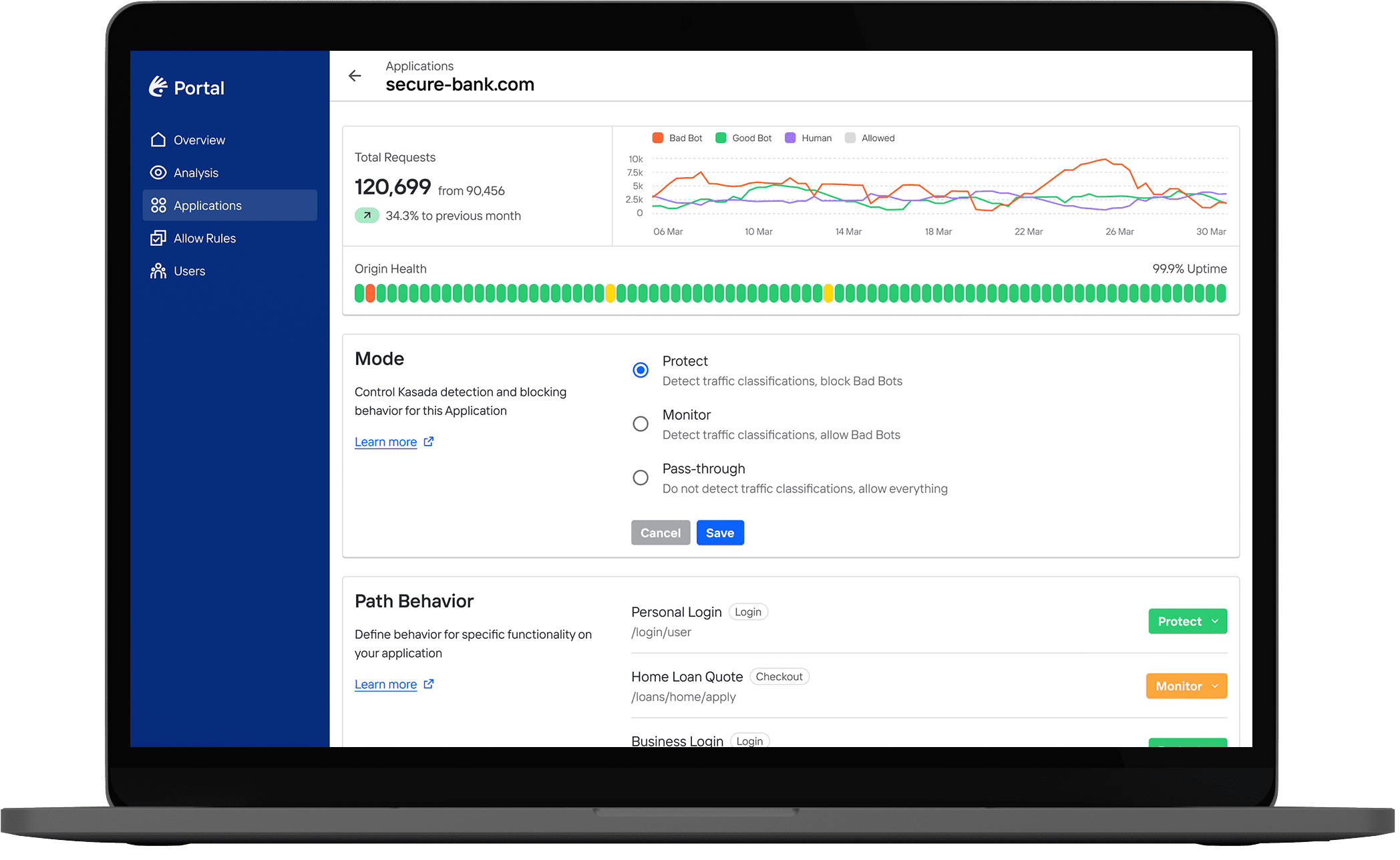 Threats are evolving.
Attackers are retooling.
Kasada is winning — you will too.
The Kasada Difference
There's no silver bullet for bot defense. The battle is won with multiple layers of resilient protection that adapt as quickly as the adversary. Kasada counters the mindsets and motivations behind automated threats.
Enduring protection
Defeat adversaries with a platform that's dynamic, unpredictable and expensive to attack.
Defense that just works
Simplify your life by eliminating management, rule updates, and decisions to make.
Happy users
Deliver an exceptional user experience free of friction by using hidden challenges.
The Kasada Architecture
Invisible client-side challenges, server-side detection, and an unmatched understanding of how adversaries evade detection. It's the foundation for our dynamic, defense in depth architecture that's able to adapt in seconds.
Kasada's dynamic platform and dedicated people protect your websites, APIs, and apps from automated attacks.
Kasada's Platform by the Numbers
Kasada's Platform By the Numbers
Our competitors just hand you a tool. Kasada helps you with a team.
Powerful protection starts with people-first partnerships.
Tailored service
We get to know your needs and strategize with you about how to meet them. Every business is different, all of our partners deserve customized care and capabilities.
Expert insights
Our people slip into adversarial communities and emerge with firsthand knowledge that bolsters your security.
Constant evolution
Kasada ingests more than a trillion data points every week, powering our ability to pivot the platform and protect you from increasingly sophisticated actors.
Proactive. Preventative. Our technology and team take the work off you.
"Not only has Kasada's false positive rate remained below 0.01% since inception, but we never had a missed attack to report. As for our customer experience, we were expecting some increased latency, but Kasada, in fact, surprised us with just the opposite. It offloaded all synthetic traffic and improved our customer experience."
"The level of engagement we get from the Kasada team and the further investigations they have undertaken on our behalf has consistently exceeded our expectations. The solution works as advertised with an ease of implementation that is clearly different from the competition."
"Rather than mere protection, Kasada supports our business growth. We know with Kasada that we're looking at real traffic, which means real data and real tools for strategic decision-making and future data monetization."